NEW TRIRIDE PERFORMANCE WHEELS
The Research & Development department of Triride srl has designed specific wheels that can definitively solve the critical issues and limitations of the standard wheels used to date on wheelchairs combined whit the our device.
Today Triride wheels are a Made in Italy reality.
Available and compatible for most wheelchair models..
IDEAL FOR YOUR WITH YOUR TRIRIDE
Wheels designed and built with the user in mind, designed to be combined with your wheelchair and Triride.
The relationship between strength and lightness has no equal and is ideal for addressing safety and security on different types of paths.
• Exclusive design and development, Made in Italy
• Fantastic lightness vs strength.
• Oval and ergonomic push rims for a comfortable grip.
• Maximum fluidity, capable of traveling thousands and thousands of kilometers with both the Triride and regular pushing, without worry
• Increased shock absorption and jolts at high speeds, for maximum comfort.
• Exceptional cornering rigidity and stiffness without loosing energy.
• Exclusivity! Possibility of personalisations with your name or your logo.
• Universal, compatibility with most wheelchairs, without changing the position of the side guards or wheel brakes.
HIGH QUALITY CONSTRUCTION
in 12 mm or 12,7 mm stainless steel, all lengths available, to suit varying length of axle receivers for most wheelchairs on the market.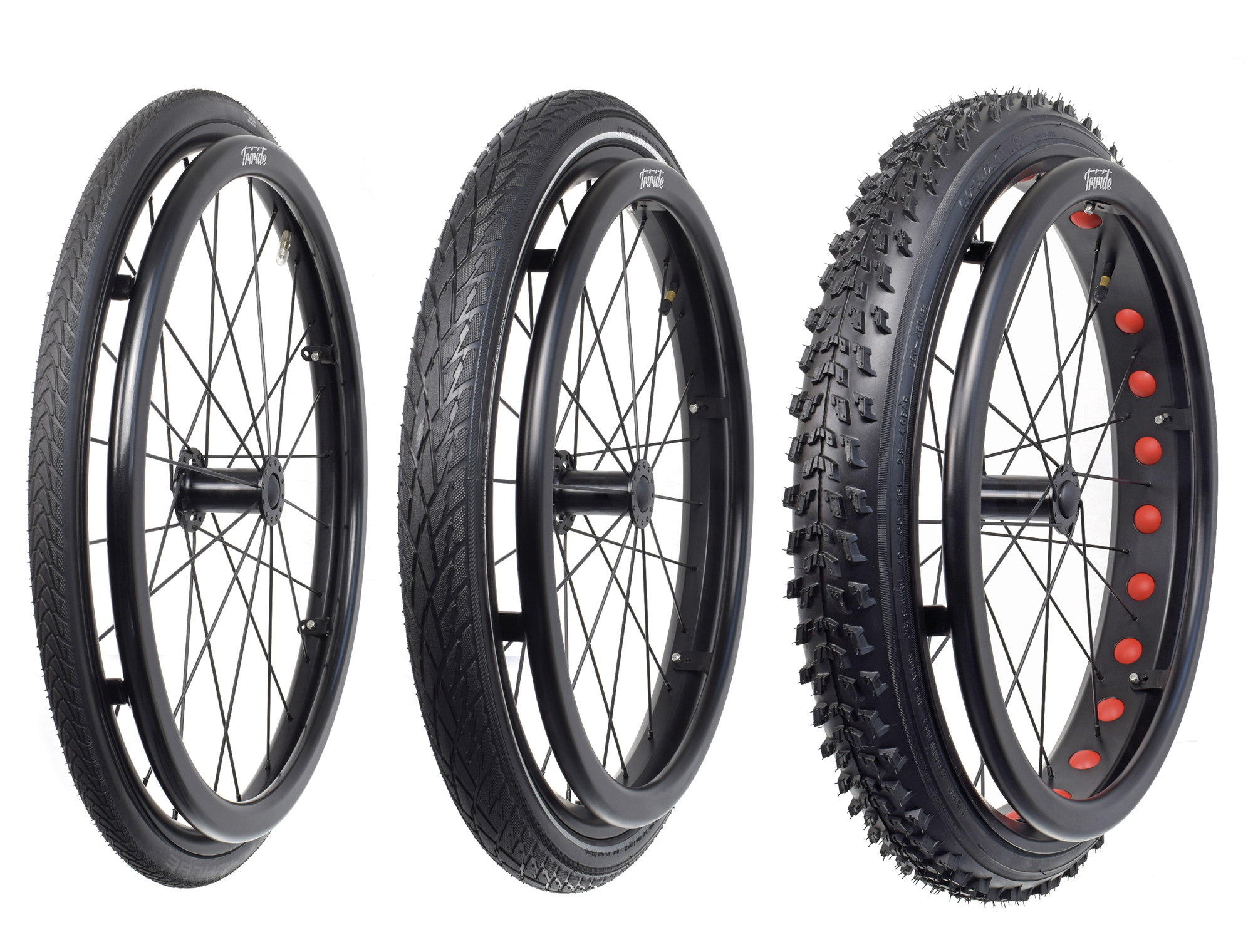 3 VARIATIONS FOR DIFFERENT USES
24″ x 1 ROAD
Ideal wheel for regular use indoor and out. Low friction and high comfort. Tire of your choice
24″ x 1.75 MIXED
Ideal rim for indoor/outdoor use on smooth, irregular and mixed paths, such as cycle paths, rough roads etc.
Great comfort. Tire of your choice.
24″ FAT
Oversized rim ideal for off-road use on routes mixed, grass, sand and soft ground.
Tire of your choice.
HOW TO BUY TRIRIDE WHEELS
Triride wheelchair wheels can be purchased by contacting one of our dealers.
Information will be requested on the wheelchair in use in order to receive the wheels ready for use.